Features:
High-Density Polyethylene (HDPE) all-weather wicker is infused with UV inhibitors that prevent fading and cracking ordinarily caused by sunlight.
Thick-gauged, powder-coated aluminum frame offers long lasting durability and rust resistance.
Wicker design gives it a more tactile, luxurious look and texture.
Duraboard® table top.
Stackable Dining Chair
Optional: 4 Dining Chair cushions – choose from listed fabrics.
Chair Dimensions: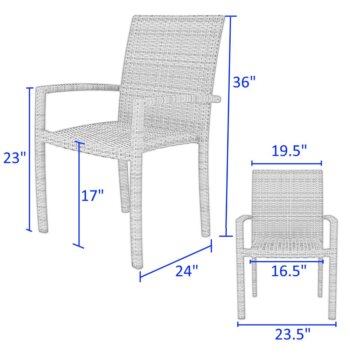 Optional Cushions:
Size: 16.5W x 16.75L x 2.5Thick
CUSH2685DC
Square, bullnose, knife edge on side, ties in the back.
About the Duraboard® table top:
Built to last a lifetime, Duraboard® – an innovative material for outdoor table tops like no other on the market – is an environmentally friendly material that is durable, highly UV-resistant and has a unique surface finish. It features two main components, eucalyptus FSC™ sawdust and polyethylene resin, extruded to create a strong, durable structure. The table top is treated with a UV-coating process, receiving a multi-layer coating which makes it highly resistant to scratches and weather conditions.